Businesses founded in Austin have the reputation to blowup and become a huge success. Austin has been a starter for many important businesses, not only do big corporations decide to make Austin their home, but there are several companies that have been founded here in the past.

Here are a few companies you may have not known were founded right here in the capital of Texas!
Kendra Scott
As one of the most popular jewelry brands at the moment, did you know that Kendra Scott started in Austin? Kendra Scott was founded back in 2002 when she was going to boutiques to sell her items. Her jewelry items started to become very popular and eventually caught Nordstrom's eyes. After hearing how much buzz this brand was creating, Nordstrom started selling Kendra Scott items.
From seeing all the success through Nordstrom, Kendra Scott decided to open her first store in South Congress. What made her brand standout compared to others was the use of natural stones and the "Color Bar, where customers can create their own unique piece and a stylist will design it in front of them.
Since starting the brand back in 2002, Kendra Scott has now opened 112 stores in the United States. In 2018, she opened a brand-new flagship location in South Congress which includes the very first café inside a Kendra Scott store!
Whole Foods
As a health food store staple, Whole Foods was founded back in 1980 here in Austin! The founders are John Mackey, Renee Lawson Hardy, Mark Skiles and Craig Weller. What made the store standout from competitors was the fact that the very first that was 10,500 square feet with 19 employees. Back then that was a very large location for a natural food marketplace.
People loved that not only could you purchase groceries, but they would sell healthy meals ready on the go. After opening their first store in Austin, Whole Foods soon expanded to Dallas and Houston. Eventually opening multiple stores all throughout the United States.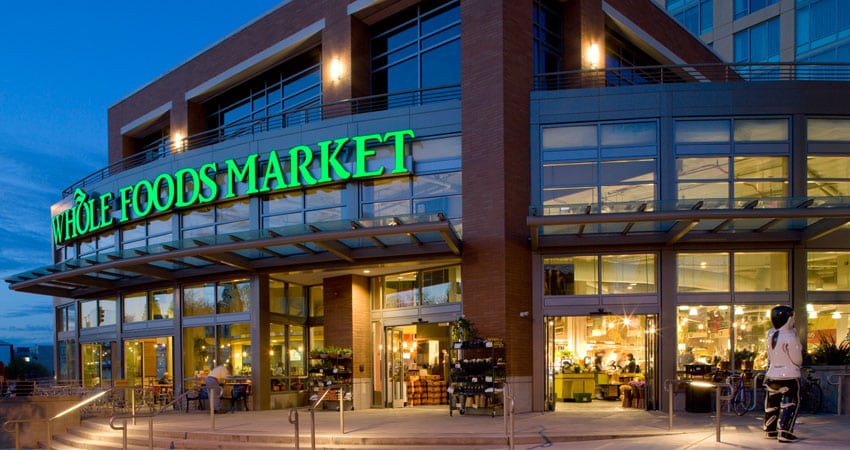 YETI
Would you like a water bottle that can actually keep your drink cold all day? Lucky for you, YETI started in Austin and currently have their flagship location on South Congress!
YETI Coolers was founded in back in 2006 by brothers Roy and Ryan Seider who were big fans of outdoor activities. The most common issue that came up was having a good quality cooler. Eventually they came up with the idea of creating a cooler that was perfect for the outdoors. Since creating the brand, they have created water bottles, mugs, dog bowls and much more!